The Income Declaration Scheme, 2016 – Poorly Drafted, Full of Confusion And Lacking Clarification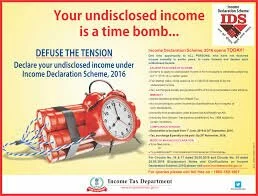 After coming in to rule, Finance Minister Arun Jetaly / Modi Government launched 3 big schemes namely – Disclosure of Black Money in Foreign, Gold Monetization Scheme and recently  Income Declaration Scheme, 2016. Despite all efforts of Indian Govt., First two schemes could not be made successful whereas Government and Income-tax Department are making their all efforts to make Income Declaration Scheme , 2016 successful.
As per this scheme, any person can convert his/her black money / assets in to white by paying effective tax levy of 45%. Disclosure should be made on or before 30.09.2016 and payment of tax etc. under the scheme can be made till 30.11.2016.
After launching the scheme, Ministry of Finance, Govt. Of India,  has issued about 6 (six) circulars to clarify various (vague) provisions of the scheme which implies that scheme is very vague and poorly drafted. No doubt, such schemes are drafted and planned by high level IAS and IRS officers. But it is unfortunate that scheme is being clarified by circular after circular which shows the level and standard of highly paid IAS and IRS officers involved in drafting and planning the scheme.
Finance Minister put the Finance bill including this scheme before parliament at a time. After passing the Finance Act, no clarificatory circular has been issued to clarify provisions of Finance Act, 2016 excluding this scheme but 6 circulars [on 19.05.16, 20.05.16 (Circular No. 16 & 17), 27.06.16, 30.06.16 and 14.07.16)  have been issued as clarifications or FAQ but why it is so ? Hope,  many more circulars will be issued by the Finance Ministry to clarify further more in near future and till the conclusion of the scheme.
Following are the possible reasons behind these clarificatory circulars :-
Scheme is very poorly and incompletely drafted without any foresight or
To make the scheme successful, conditions are liberalized or new facilities declared through circulars overriding the terms, conditions and intentions of the scheme or
The Government Machinery is more powerful than the Indian Parliament as an under secretary's circulars are more powerful than the government's scheme  > Manish Mewara from Jaipur | Rajasthan .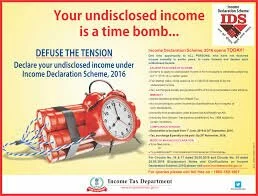 Related posts: